The Judds to Release Greatest Hits Compilation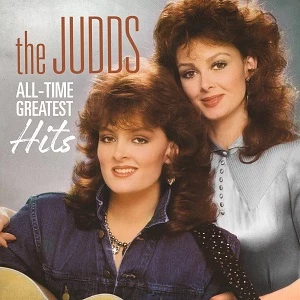 Wynonna and Naomi Judd will be releasing a greatest hits album this summer. The Judds – All-Time Greatest Hits is due out on June 30.
With a string of No. 1 singles, many of which are considered country standards, the mother-daughter duo has become a key part of country music history. For their all-time greatest hits collection, the Judds chose to include 21 songs that helped secure their spot in the country music world.
The Judds – All-Time Greatest Hits will include all of their Top 10 hits, in addition to their other popular songs that landed on the charts. The first of the duo's 14 No. 1 hits, "Mama He's Crazy," is, fittingly, the opening track; the song helped the artists instantly captivate fans, thanks in part to the intimate, conversational tone of what would become one of the pair's signature songs. Also included on the album are "Love Can Build a Bridge,""You Can't Go Home Again (Flies on the Butter)" and "One Hundred and Two." A full track listing can be seen below.
"Some things continue to get better with time, like fine wine and the Judds' music," says Naomi Judd in a press release. "I'm so proud that our music has stood the test of time. It makes my heart smile when I turn on country radio and I can sing along with our hits."
More information about the Judds can be found on their official Facebook page.
The Judds, The Judds — All-Time Greatest Hits Track Listing:
1. "Mama He's Crazy"
2. "Why Not Me"
3. "Girls Night Out"
4. "Love Is Alive"
5. "Have Mercy"
6. "Grandpa (Tell Me 'Bout The Good Old Days)"
7. "Rockin' With The Rhythm Of The Rain"
8. "Cry Myself To Sleep"
9. "Don't Be Cruel"
10. "I Know Where I'm Going"
11. "Maybe Your Baby's Got The Blues"
12. "Turn It Loose"
13. "Give A Little Love"
14. "Change Of Heart"
15. "Young Love"
16. "Let Me Tell You About Love"
17. "One Man Woman"
18. "Born To Be Blue"
19. "Love Can Build A Bridge"
20. "One Hundred And Two"
21. "Flies On The Butter (You Can't Go Home Again)"

Source:
The Judds to Release Greatest Hits Compilation